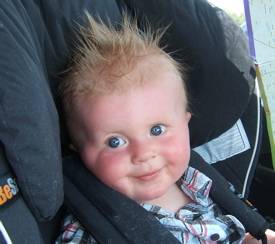 So, after Christmas and New Year's Eve I am on parental leave until October 2007. Nine months is a long time in the technology industry so I am planning some projects to keep up-to-date. My project list is getting longer every day but for some reason no-one is taking it seriously. My wife tells me I should be happy if I manage to read the morning paper while taking care of our son…
My primary aim is of course to be with my son, but I think it is important to keep somewhat up-to-date with what's going on in the industry. I now I'll have at least one hour per day when he is taking his daily nap and I guess I'll have to cram as much as possible into that time slot.
I decided to take up my photography interest while on parental leave and ran out to get a new DSLR. I ended up with the Sony A100. I find it interesting that having a baby is a real good reason to pick up some new gadgets. Expect a Flickr sidebar to appear when I have managed to fill the 1 Gb memory card.
What's your experience form when you were on parental leave? Did you manage to read up on technology discussions? Did you do any interesting coding projects? How much did you spend on new gadgets that you thought were absolutely essential?